No Charge Hard Drive Shredding Services
Data Security Is What Sets Us Apart
Don't just hand your sensitive data to anyone.  Sensible Recycling is the only electronics recycling company in the Jacksonville area that follows a policy of total destruction.  We do not reuse hard drives, we shred them.  We offer no cost, total data destruction for your piece of mind.  Our services include on-site or in-house hard drive shredding and electronic data destruction services in the Jacksonville, St. Augustine and North Florida areas.  We achieve this by physically destroying your hard drives by shredding them into half an inch or small pieces at your location or at our warehouse.  We also offer FREE onsite shredding at your location.  We also hold a HIPAA Compliance certification.  A serialized certificate of destruction can be provided for your records.  We also provide video of the process and a representative from your business is welcome to observe the process as well.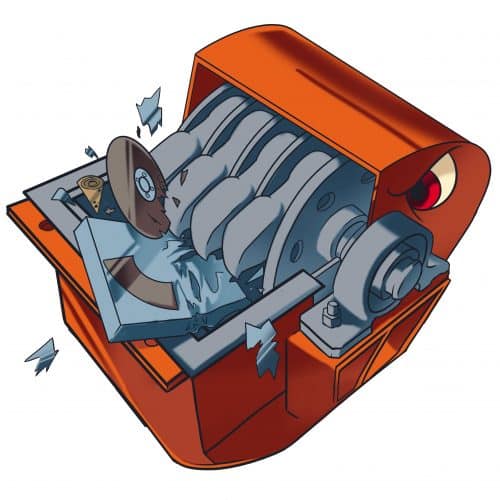 Hard Drive Shredding
Sensible Recycling provides no charge hard drive shredding services.  We offer multiple methods of destruction to fit your needs.  We offer on and offsite hard drive shredding.  Our warehouse shredder is by far our most robust machine handling up to 1500 drives per hour.  We also offer onsite shredding services as well   Our large shredder is located at our warehouse on 9640 Sunbeam Center Dr. Suite 3, Jacksonville, Florida.  The shredder reduces the drive down to pieces less that 1/2″ in size.  The shredding process ensures all of your data is permanently destroyed in a very destructive fashion and meets the highest standards for electronics data destruction.  We offer certificates of destruction by request at no charge.
Shredding is the best and safest way to ensure your hard drives and  electronics data have been completely destroyed.  The shredder can also destroy other types of media devices such as thumb drives, cell phones, tablets, CD's/DVD's, and magnetic tape.  We can also provide serialized certificates of destruction and can video the process to  conform to any regulations.