Items We Accept
Do you have computers or electronics that need to be disposed of but not sure if we will accept it?  See a list of the types of materials we accept
Hard Drive Destruction
Secure your data with our free hard drive shredding service.  We provide serialized certificates of destruction to ensure your data stays secure.
IT Asset Disposition
Let us handle your asset retirement.  Find out what services we can offer you when your IT equipment needs to be retired and replaced.
Sensible Recycling brings a different approach to electronics recycling and computer disposal.  We don't charge for our recycling and computer disposal services, and we shred or physically destroy all of the hard drives we receive.  We are not a scrap yard and do not collect scrap metal.  We are also not a computer refurbisher, and do not wipe your hard drives and reuse the computers we receive.  These two statements make us fundamentally different from our competitors for the following reasons:
Your hard drives will always be physically destroyed.  Since we do not refurbish computers, we have no need for the hard drives.  Unlike a refubisher, we do not wipe and reuse any drives, nor do we sell them whole.  Unlike a scrap yard, we do not buy and sell whole hard drives.
Our means of data destruction is secure.  If your hard drive winds up in a scrap yard, you will never know what happens to it.  It could wind up anywhere and in the hands of anyone.  If your hard drive goes to a computer refurbisher, chances are it will be wiped and reused.  You will never know if your data has truly been destroyed because you will never see it once it leaves your possession.  If a hard drive takes hours, or more than a day to be securely wiped by DOD methods and a business is receiving hundreds a day, how can you be sure some of these drives aren't slipping through the cracks and not being wiped before being reused?
Our shredding and crushing process is the most transparent, complete way to protect your data.  When a drive is destroyed, the the pieces are something tangible and the destruction is so complete that it is readily apparent the data will be impossible to recover.  We invite you to watch the process.  We can even verify the destruction process with a serialized certificate of destruction and a video of the process showing your drive being fed into the shredder.  The best part is we can do all of this at no charge!
Need a Certificate of Destruction (CoD)?  We can do that too.  For audit purposes we can provide you a CoD with the make,model, serial number, and the asset tag.  We can also provide you with a Certificate of Recycling for your material.  This is all part of our free service.
We recycle computers, stereos, printers and more.  Yes all of these things can be taken to a scrap yard or computer refurbisher, but when your profit is derived from refurbished computers or scrap metal can you be sure that your electronics is being responsibly recycled?  Sensible Recycling specializes in electronics and computer recycling.  This is what we do and how we generate our income.  Even stereos and printers help us pay the bills.  Rest assured that your old electronics will be recycled responsibly.
What happens to the old computers and electronics?
Sensible Recycling does not refurbish computers and we are not a scrap metal yard.  Sensible Recycling is an electronics recycling center that specializes in recycling electronics and computers, nothing else.   We offer an environmentally safe way of computer disposal.  This means that we want all your old electronics whether they are computers or not.  Since our revenue is generated from recycling electronics and not from refurbishing computers, we can focus on the responsible recycling of everything we receive.  All computers and electronics are broken down to the core components, sorted and recycled.  If any computers we receive contain a hard drive, Sensible Recycling will physically destroy it to ensure our customers confidentiality.
What can you expect?
Custom recycling service tailored to your needs
Hard drives are always physically destroyed
Pickups are always on time
Certificates of destruction delivered within 72 hours
Our services are always FREE
Expect great customer service!
Make the Sensible choice when it comes to recycling your old computers and electronics!
Secure Hard Drive Shredding
Keep your personal, company and client data secure when disposing of your end of life computers and electronics.  Sensible Recycling is a full service local electronics recycling center, because not only will we recycle your computers and electronics; we will destroy your hard drives as well.
Reformatting your hard drives will not erase your data.  In order to be completely sure your data is unrecoverable, your hard drives should be physically destroyed.  By not taking the appropriate steps to secure your data on end of life electronics you dispose of, your information becomes vulnerable to data thieves.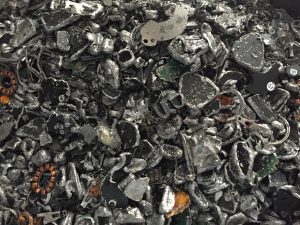 84 million people were affected by medical identity theft in 2012
Victims incurred a cumulative $12 billion out-of-pocket costs caused by medical identity theft
Cost of a Healthcare record is $233 per lost record

Average data breach costs $5.4 million per incident
The US ranks 2nd for the greatest number of exposed or compromised records at 28,765 
On average, a malicious data breach takes 80 days to detect and over 123 days to resolve
Sensible Recycling offers secure hard drive shredding at no charge.  Our data destruction is HIPAA compliant and we maintain a HIPAA compliance officer on staff.  Once your data has been destroyed, we will also send you a serialized certificate of destruction.  Let us be your choice for secure electronic data destruction.  Find out more about our Data Destruction Services.
Sensible Recycling physically destroys your hard drives by shredding them into small 1/2″ or less pieces.  The shredding process will completely, and utterly destroy all data on your drives.  Sensible Recycling will ensure your electronic information is destroyed to HIPAA, HITECH, Gramm-Leach-Bliley Act (GLBA) and DoD 5220.22-M standards.